Florence – one of the most visited locations in the world, is a great location for a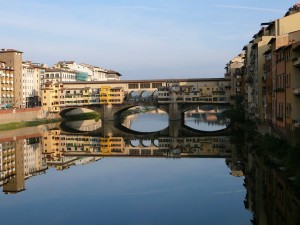 multi-generational family visit – a recent posting on Reuters, London states:
As baby boomers hit retirement and generation Xers become soccer moms, more and more families will be looking for vacation spots that work for a wider age group. With this in mind, the members and editors of VirtualTourist.com compiled a list of the "Top 10 Multi-Generational Destinations." The aim was to find locales that will provide stimulating activities and a multitude of options for children, parents, and grandparents while on vacation. Reuters has not endorsed this list:
1. Florence, Italy
In addition to being the center of Renaissance culture and one of Europe's most beautiful cities, Florence provides a compact, easily walkable destination for families of all ages. One great thing about Florence is that even if some family members have already visited the city, there are always more things to see, and many of the city's masterpieces are just as thrilling on the second or third visit. Architectural landmarks include the Duomo, topped by Brunelleschi's dome, and the Bapistry, with its exquisite gold doors. No trip to Florence is complete with a visit to the Uffizi Gallery and the Galleria della Accademia, which houses Michaelangelo's David. VirtualTourist members suggest getting timed tickets for both of these museums in advance of your trip; otherwise, the line can be quite atrocious! Women of all ages will enjoy strolling the Ponte Vecchio, the bridge over the Arno River that is lined with gold jewelry shops, and VT members also noted that the Palazzo Medici and the Chapel of the Magi, though not a usual tour stop, is definitely worth the extra few Euros. For those who'd like to explore other Tuscan towns, Lucca, San Gimignano, and Siena are all picturesque and very different from the bustle of Florence.
The best way to enjoy Florence in full is to rent an apartment in Florence, ranging from one to five bedrooms, an apartment will allow you the leisure to really explore this renaissance town. The markets offer wonderful Tuscan delicacies which you may want to take home to prepare for a lunch or dinner on the terrace, going out later for a gelato at one of the many locations around the historic centre. A very safe town, it is a great place to let your older teens head out on their own for a bit, returning later to the apartment with stories to tell.