Cinque Terre -what to see and do…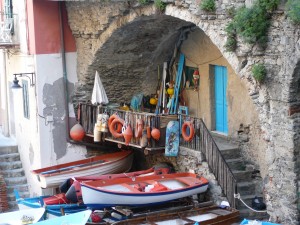 as there are many questions about Cinque Terre – this great overview from Conde Nast is a useful overview
There are five Cinque Terre villages—Monterosso, Vernazza, Corniglia, Manarola, and Riomaggiore—are backed by hills so steep that a coast road was never built. The villages are connected by train, with five tiny stations wedged into the space where the tracks emerge from the tunnels. East of the Cinque Terre, where the coast is flatter, are a series of family resort towns and working ports: Sestri Levante, Chiavari, Rapallo, and Santa Margherita Ligure. The promontory that juts out into the clean sweep of the coastline here is host to one of Italy's most beautiful (and exclusive) seaside villages, Portofino. It lies around three miles south of Santa Margherita, with its train and bus connections (see Getting Around).
WHEN TO GO
The season runs from April to October. Outside of this period, a few hotels and guesthouses stay open in the Cinque Terre, but Portofino shuts down fairly comprehensively. The best months for walking are May, June, September, and the first half of October. July and August are best avoided if you don't like the heat, which can top 95 degrees (and bear in mind that Cinque Terre lodgings do not always include air-conditioning). There's a risk of rain at the beginning and end of the season, but if it holds off, mid-April or late October can make for a glorious, crowd-free stay.
HOW TO GET THERE:
There are airports at Genoa and at Pisa. The latter, in Tuscany, is 20 miles further from the Cinque Terre but has a much greater range of European flights, with regular daily connections to London, Paris, Amsterdam, and Munich, plus a nonstop service to New York's JFK Airport four times a week run by Delta.
GETTING AROUND Cinque Terre
The number one rule: Don't drive. It's costly and awkward to park in the Cinque Terre villages if you're not a resident, and there are so few parking spaces in Portofino that in high season, traffic policemen limit the number of private cars that are allowed to enter the village. (The exception is if you're staying in one of the few hotels, like the Splendido, that offers its own private parking.)
By far the best way to get to the area is by train. The five Cinque Terre villages are served by regional trains (not InterCity or Eurostar services) on Trenitalia's coastal Genoa-Pisa-Rome route (39-06-6847-5475; www.trenitalia.com/en/index.html). The nearest large stations—where you may need to change—are Levanto to the west and La Spezia to the east. From Venice or Milan, you'll need to travel via Genoa; from Florence, via Pisa or Viareggio. If your destination is Portofino, the nearest train station is at Santa Margherita Ligure, three miles away. The Portofino bus, number 82, leaves more or less hourly from outside the train station; alternatively, a taxi will set you back around $46. It makes sense to invest in a Cinque Terre Treno card, which entitles you to unlimited train travel on the La Spezia to Levanto stretch for the duration of the card. The five Cinque Terre stations (Monterosso, Vernazza, Corniglia, Manarola, and Riomaggiore) are only a few minutes apart, and you rarely have to wait for more than half an hour for a train (pick up a free timetable when you buy the card; the schedule can also be downloaded from the Parco Nazionale Web site, www.parconazionale5terre.it).
The other way of getting around is by boat—which has the added advantage of allowing you to see the spectacular coastline from a distance. Ferries run by the Consorzio Marittimo Turistico 5 Terre–Golfo dei Poeti ply the coast between Portovenere and Levanto, putting in at all the Cinque Terre villages except Corniglia (39-01-8773-2987; www.navigazionegolfodeipoeti.it). These services overlap with the ferries run by the Servizio Marittimo del Tigullio, which continue along the coast to Chiavari, Rapallo, Portofino, and the Abbey of San Fruttuoso (39-01-8528-4670; www.traghettiportofino.it). Both lines generally run between April and October. Portofino is connected to Santa Margherita and Rapallo by buses run by ATP (39-10-546-741; www.atp-spa.it, Italian only).
TOURIST INFO In the Cinque Terre, there are efficient Parco Nazionale information centers in each of the five village train stations, plus La Spezia. The general Parco Nazionale Web site is www.parconazionale5terre.it.
Riomaggiore
Tel: 39 01 8776 2187
accoglienzariomaggiore@parconazionale5terre.it
Manarola
Tel: 39 01 8776 0511
accoglienzamanarola@parconazionale5terre.it
Corniglia
Tel: 39 01 8781 2523
accoglienzacorniglia@parconazionale5terre.it
Vernazza
Tel: 39 01 8781 2533
accoglienzavernazza@parconazionale5terre.it
Monterosso al Mare
Tel: 39 01 8781 7059
accoglienzamonterosso@parconazionale5terre.itLa Spezia
Tel: 39 01 8774 3500
accoglienzaspezia@parconazionale5terre.it
The main tourist information office for the Tigullio coast, which includes Portofino and Rapallo, is in Santa Margherita Ligure, with a smaller seasonal office operating in Portofino itself. For information on the regional park, the Ente Parco di Portofino, go to www.parks.it/parco.portofino.
http://www.apttigullio.liguria.it