Is a Rome sightseeing pass worthwhile? for some it might be just the right solution for others – you may prefer our special private tours, whether you want to do Rome with children, see the hidden corners of Rome, food and market tours and more…read on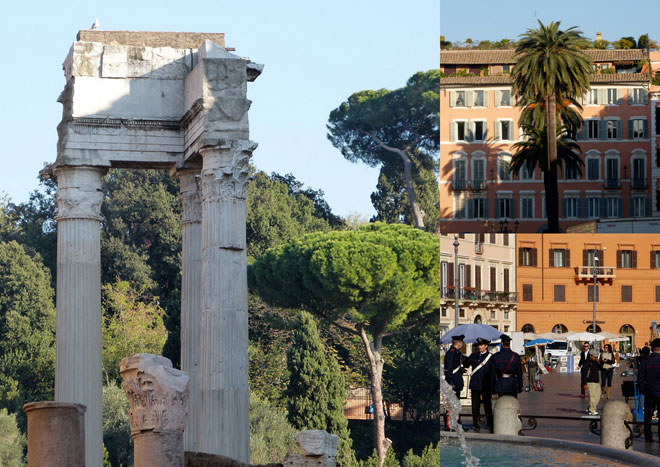 Ask the experts: Lee Marshall, Rome expert, offers some advice on the city's sightseeing passes
But which one? Best value in my view is the three-day Roma Pass (romapass.it), which costs €34/£29 and gives you free travel on public transport, plus free access to two sights, plus discounts of around €2 on others. To give you a price comparison, separately purchased tickets for the Forum/Colosseum and Borghese Gallery, plus a three-day bus pass, would set you back €39.50. Another advantage of the pass is that it allows you to avoid long queues at ticket offices.
But the Roma Pass does not cover attractions owned or run by the Vatican – including the Sistine Chapel, the dome of St Peter's (the basilica itself is free), and Roma Cristiana open-top bus tours. These are included on the Omnia Vatican & Rome card (romeandvaticanpass.com), which costs a hefty €90/£76 – not a good investment, in my view. Sure, this includes all the Roma Pass perks (including free public transport), and it allows you to skip the queues for the Vatican Museums and Sistine Chapel. But a wait-free single Vatican Museums ticket bought in advance (biglietteriamusei.vatican.va) gives you the same privileges, and costs just €20.
For a more personalized approach in Rome – do contact Carina at Classicvacationrental.com as we work with some excellent local guides for private and personalized tours just for you – I love the food and market tours – take a look and I especially recommend the early morning Vatican – before official opening hours – which we can set up for you or check out Rome with kids
Early Morning Vatican Tour – Half Day
A tour which offers you special reservations and you'll be among the first to enter, so you will have all the time and space to enjoy the wonders of the Sistine Chapel before the crowds flood in; a great chance to relish the beauty of the ceiling and the Last Judgment by the immortal genius of Michelangelo as well as the cycle of frescoes on the walls painted by many great masters of the Renaissance. This unique visit also includes other amazing sections of the Vatican Museums – the Laocoon,  the Torso, the Tapestries Gallery, along with St. Peter's Basilica where the famous Pietà by Michelangelo is kept and the impressive colonnaded square by Bernini. It is a very special tour indeed, always regarded as "one of the best experiences in Rome".
Gladiator School
Meet the Gladiators of Ancient Rome in the Gladiator School. Spend half a day in a Roman Gladiators School for children both young and old. Are you ready to go and play as a gladiator with Nero at the Gladiators' School? You can learn about ancient Roman history and have fun. Your gladiator instructor will teach you how to fight with Roman weapons. Van with English-speaking driver and private guide on if combined with the tour of the Catacombs or Colosseum
Price: Price varies according to number of participants and the sites visited if included.
Vatican Tour for Kids (not early morning) – 3 Hours
It is a fun paced visit with qualified licensed Vatican guides who understand the needs of young ones in what can be a mesmerizing place to visit. But one which will take the whole family through a broad range of art collections, so the adults will not miss out either. Highlights include seeing close up the famous 'Popemobile' in the Carriages Museum. We will also inspect an Egyptian mummy in the Egyptian Museum, as well as admiring marble heroes in the Candelabra Gallery, precious tapestries and wonderful ancient maps. Don't think we won't reach the Sistine Chapel. Here your children will learn how Michelangelo created the most famous work of art in the world in only 4 years, and all alone, and on his back! The tour will end in Saint Peter's Basilica where even adults will feel small. The Basilica is long as two football fields.
Art Food and Fun Gourmet Tour – Half Day
Market tour of Rome with food shop visits and tastings Rome food tour to discover in a fun way the daily markets, shops and gastronomy of the city. Stroll through open-air markets, visit food stores and an old bakery to see firsthand how pizza is made, and step into one of Rome's most famous delicatessens that has been open since 1870. This tour includes tastings and samples such as the famous pizza as well as local artisan cheeses, salami and pasta. These are accompanied by samples of red wine and prosecco. All of this is followed up by a gelato and a coffee to give you the extra boost you need after all that eating! This tour gives you the opportunity to chat with your guide in order to gain a better understanding of Italian culture and traditions. We recommend this tour for the early-afternoon so the food samples and wine tastings can act as a unique lunch.