Events in Florence – festivals, spectacles, events to watch…Calcio Storico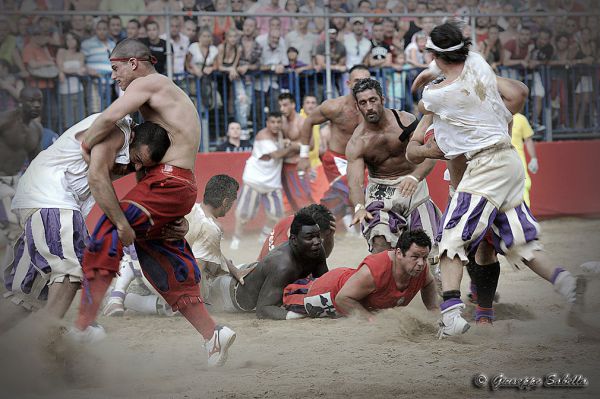 Rules? what rules ? Calcio Storico Fiorentino – SAVE THE DATE – JUNE 24 is the finale
Not to be missed if you are in Tuscany in June – the amazing spectacle of  Calcio Storico Fiorentino #calcio, It  is a combination of soccer, rugby and wrestling originated in 16th century Florence and played today in historical costume. The four teams of the historical neighborhoods of the city play against each other, first in two semi-finals and then the final match to determine the winner. The final match is always held June 24 -the day for the patron saint of Florence -  St. John the Baptist. On this day, there is a spectacular parade in historical costume starting in Piazza Santa Maria Novella and heads through the center on its way to Piazza Santa Croce. ( where the game is held) Each of the four districts (Santa Croce (blue), Santo Spirito (white), Santa Maria Novella (red), and San Giovanni (green) is in the parade, you'll see the players going by as they go to play the final, even those that won't be playing the last match. The parade starts roughly around 4pm since the final should start around 5pm
Piazza Santa Croce has always been the home to this game, known as "giuoco del calcio fiorentino" or more simply just as Calcio (which means "kick" in Italian). The square is prepared to return to those times when it was just a dirt square (instead of stone) to recreate the setting. Of course, today bleachers set up so that spectators can better enjoy the game.  check more details on their website – http://www.calciostoricofiorentino.it/en/
Tickets for Calcio Storico Fiorentino
Tickets are generally sold starting in May through the online ticket reseller Boxol.it. Many of the seated places get sold-out early on so we do recommend you buy tickets ahead of time. If you're interested in being in the tribunes with fans on one team or another, you could also just wait until you are here and buy tickets for standing room only.
Cost of tickets generally goes from 21-52 euro for the best central seats in tribune A, plus cost of pre-sales on the website. Start looking for tickets online starting at the beginning of May, they aren't available earlier.
The official rules of the Calcio Storico were first published in 1580 by Giovanni de' Bardi, a Florentine count. Invented by rich aristocrats, Calcio was originally just played by aristocrats and took place every night between Epiphany and Lent. Little has changed since historic times, except anyone eligible can play.
Each team had 27 players with no expected substitutes. There are: four Datori Indietro (goalkeepers), 3 Datori Innanzi (fullbacks), 5 Sconciatori (halfbacks),  15 Innanzi o Corridori (forwards). The Capitan and Alfiere (flagbear's) tent sits in the center of the goal net. They don't actively participate in the game, but can referee and organize the game.
The Giudice Arbitro and 6 Segnalinee referee the match, in collaboration with the Giudice Commissario, who remains off the field. above everyone else, is the Maestro di Campo. He makes sure the runs smoothly, stepping in the reestablish order and maintain discipline in case of a fight on field.
The game stats when the "Pallaio" throws the ball to the center line, followed by the firing of a small cannon, announcing the beginning of the conflict.
From this moment on, the players try (by any means necessary) to get the ball into the opponents goal. The teams change sides with every point scored.
"where is the beef?"  What is the Prize? A Chianina calf!!