Father's Day – Here to all the Dad's in our lives - Rosemary and Porcini Crusted Lamb Loin Chops-  a great recipe for Italian inspired lamb chops ( love the porcini mushrooms – remember you should buy some at the food market in Florence before coming home, dried they don't take up much space, but can add wondeful flavour to many dishes).
Lynda Balslev* at Tastefoodblog.com has an inspirational recipe for Lamb chops
A rub of crushed dried porcini mushrooms and finely chopped rosemary creates an umami-rich crust for lamb. I use a food processor to blitz the mushrooms before continuing to chop them by hand with the rosemary, resulting in a coarse rub. A spice grinder will create a finer crust.
Serves 4.
8 lamb loin chops, about 1 inch thick
Sea salt
Freshly ground black pepper
3 tablespoons olive oil, divided
1 large garlic clove, minced
1/4 cup finely ground dried porcini mushrooms
1 tablespoon finely chopped rosemary leaves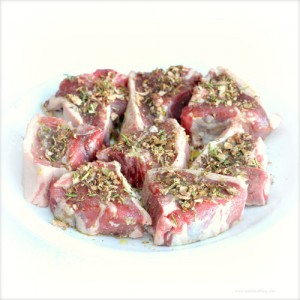 Season the lamb with salt and pepper. Combine 2 tablespoons oil and the garlic in a bowl. Smear all over the lamb. Cover with plastic wrap and refrigerate at least 2 hours or up to 24 hours.
Thirty minutes before roasting, remove the lamb from the refrigerator. Combine the mushrooms and rosemary in a small bowl. Coat both sides of the lamb with the rub. Let stand at room temperature, 30 minutes.
Preheat the oven to 375 F (190 C). Heat 1 tablespoon oil over medium-high heat in a large ovenproof skillet. Add the lamb without overcrowding. Cook until brown on both sides, 3 to 4 minutes per side. Transfer the skillet to oven. Bake until cooked to desired doneness, 10 to 15 minutes for medium-rare. Remove from oven, tent with foil and let rest 15 minutes before serving.
* Lynda Balslev and Classicvacationrental.com may be putting together a delicious and interesting food week in Tuscany, stay in a lovely villa, every day a food related activity from market visits, to sourcing unique produce at the growers directly, cooking authentic local dishes with a Tuscan mamma, and of course, visiting some lovely towns and villages, shopping and more…would you be interested? email us and let us know so we can include you in our updates as we put this together.