Villas in Italy
Find Amazing Villas for Rent in Italy!
Properties are found in the following regions/cities: please click on the map for your region or one of the headings below: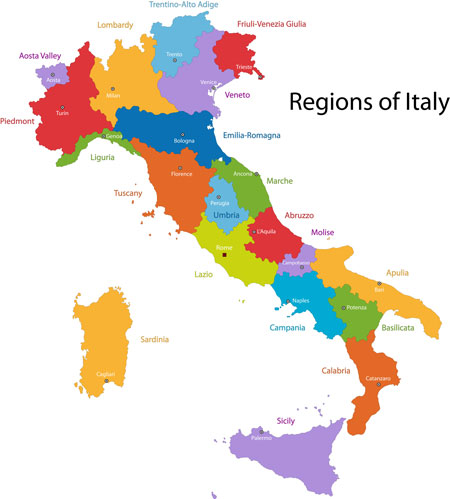 Cinque Terre, Northern Italy and Lake District
Milan
Veneto - Venice
Tuscany/Umbria
Florence
Lazio - Rome
Southern Italy
Vacation rental Italy: - definition: to rent a villa, rent an apartment, rent a farmhouse, rent a castle - for the purpose of living and savouring, for even just a short time - life in the Italian countryside;
Tuscany, Florence, Rome, Venice, Cortona, Amalfi, Umbria, Siena, …where to you want to be…what do you want to see?
Italy - the dream of Italy is something unique for each of us -… the Palio in Siena, Christmas Mass in Assisi, Easter at St. Peters in Rome, Carnival in Venice, sipping a wonderful red Chianti on the front steps of a country villa, eating a hearty Italian country meal of cured meats - Proscuttio, locally made Pecorino cheese, homemade pasta tossed with sun dried tomatoes and freshly picked basil, vegetables picked from the garden drizzled with olive oil; or imagine looking out of your window to see the Duomo of Florence rising above, or framing the towers of San Gimignano a few hilltops away; see the undulating vineyards of Chianti spreading out below, and watch the sunset over the sunflowers in bloom, driving the cypress-lined roads from ancient village to Renaissance town.
To experience this Italy - that is unique to you - rent villas in Italy or an apartment in a castello (castle), Borgo (hamlet) or a podere (farmhouse) on a tenuta (estate) or fattoria (farm).
Pick a destination on the map - and take a look at our selection - or simply email or phone us - and one of our specialists will help you find the best place for you.