Italy - Florence
Rent an apartment in Florence… stay a few days, stay a week, a year….
Florence – or Firenze – as the Italians call it – is one of the most romantic towns imaginable. Somehow just a short stay and already Florence seeps into your soul…the golden hues of the buildings, the sun's reflection on the Arno – as it winds past the red-tiled buildings, under the Ponte Vecchio – go at the right time and the reflections are amazing… the photo images you can create magical! The Duomo and the Campanile ( bell tower) together are the quintessential Florence, picture them against the blue Tuscan skies that one is so lucky to have ( often) when in Florence! The markets at San Lorenzo, the Mercato Nuovo, San Ambroggio – give you a wonderful opportunity to buy a mix of fabrics, leathers, Venetian glass, treasures from around the world, and of course, the wonderful fresh food…take it home, eat it on the spot! Little wine enoteca's dot the city – for a quick stop to taste some wonderful tuscan wines, Florence is for walking, stopping, chatting, sitting on the piazza, buying a gelato, ( it's hard to pick a flavour – will it be hazelnut, lemon, tiramisu, walnut, bacci or simply vanilla or chocolate?)
Art…. where can you start? The whole city is a work of art, the birthplace of the Renaissance. Botticelli's "Birth of Venus" and Michelangelo's "David" are just two of the most well-known of the thousands of stunning works that can be found in the Uffizzi, the Galleria dell'Accademia, and simply wandering around the streets.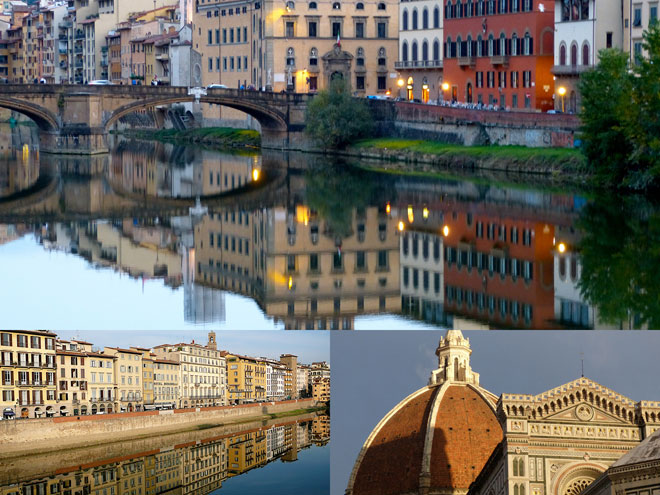 Properties:
Many people stay in Florence only a night or two – on their tour through Italy, – if that is all the time you have, then choose an apartment in the centre or a charming hotel, if you have longer many people choose a property in the countryside – generally it is no more than a 30 – 45 minute drive into Florence.
Browse through our selection - then email or phone us at 1 888 830 9650.
We are always adding new properties – there may be others that you do not see here. Talk to one of our specialists to find the vacation rental just right for you.
Sorting:
Name
|
City
|
Region
|
Occupancy